BMS Rescue Products
Visit Our Authorized BMS Retailers For Pricing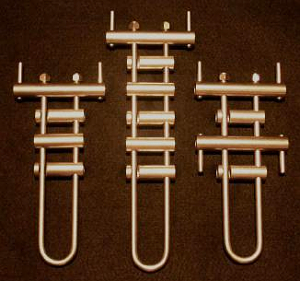 The BMS Rescue Racks
are designed for the professional rope rescue user. Constructed entirely of high strength stainless steel these racks standup to the harshest of conditions. The closed frame yields a device many times stronger than it's open frame counterparts and the extra heavy tubular stainless steel bars stand up to severe abrasion. These characteristics yield a descent control device with a service life many times longer than their competitors.
Offered in two frame lengths with either four or six bars, both of which easily accommodate two 1/2″ ropes. Top bars are of the double hyper-bar design which provides added load control options and simple and secure lock offs for either 1 or 2 ropes allowing independent control over both ropes. A slight variation on the 4 bar Rescue-Rack uses a second double hyper-bar in place of the third bar. This allows the operator to add extra wraps around the hyper-bars to increase friction to maintain control under demanding rescue conditions. All models are easily locked off by passing a bight of rope through the frame and looping it over the hyper-bar.
Easy Lock-off with Double Hyper-bar
All Stainless Steel Construction
Frame Strength: 20,000 lbs Plus
Exceeds all applicable NFPA SPECS
Double 1/2″ Rope Capacity
Dimensions:
6 Bar: 13"x 5"x .75" (330 x 127 x 19 mm)
4 Bar: 10"x 5"x .75" (254 x 127 x 19 mm)
Weight:
6 Bar: 31.1 oz.(886g)
4 Bar: 23.1 oz.(658g)
4 Bar w/Dual Dbl. Hyper-Bar: 26.4 oz.(750g)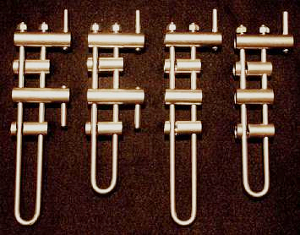 From left to right:
1. Dual Hyper-Bar Long Frame
2. Dual Hyper-Bar Short Frame
3. Single Hyper-Bar Long Frame
4. Single Hyper-Bar Short Frame
BMS Micro-Racks
were originally designed for the caving community and have become the device of choice for both expedition and recreational cavers in the US. These closed frame racks offer increased strength (see spec. below) and at the same time are almost half the size of conventional open frame racks. The bars are fabricated from extra-heavy wall stainless steel tubing which yields unequaled resistance to abrasion. Under normal conditions they should supply a lifetime of use. Supplied with an extended top bar with pin (hyper-bar), the BMS Micro-Rack not only increases options for control of descent but also facilitates simple lock offs (see Rigging Configurations below). The transition from locked off to descent or lower is smooth and easy.
BMS Micro-Racks are available in two frame lengths (specs below) to accommodate a wide range of rope sizes and loads. They are also available with a second inverted hyper-bar below the top hyper-bar (see picture above). This modification allows the user to take an additional wrap around the hyper-bars to further increase the load handling abilities of these devices. This modification has been widely accepted in the Fire and Search & Rescue communities as providing a compact and safe alternative to traditional 6 bar open frame racks.
High Strength Stainless Steel Construction For Maximum Abrasion and Corrosion Resistance
Compact And Easy to Carry
Frame Strength: 14,000 lbs. plus
Individually Tested: 1,000 lbs. load
Manner of Use Test: Failure at 6,000 lbs. plus
Short Frame Dimensions:
8 1/2″ x 2 3/4″ x 3/4″ (216 mm x 70mm x 19 mm)
For 3/8″ (10 mm) &
7/16″ (11 mm) Rope
Long Frame Dimensions:
10 1/2″ x 2 3/4″ x 3/4″
or 267 x 70 x 19 mm
For 7/16″ (11 mm) and 1/2″ (12.5 mm) Rope
Recommended for light loads or small people on stiff rope
Weight:
Short Frame: 14.2 oz.(405g)
Long Frame: 15.2 oz.(432g)
Add 1.3 oz.(42g) for Dual Hyper-Bar Models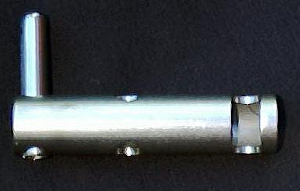 BMS Hyper-Bar for SMC Racks
Provide Safer and Easier Lock Off
Increases Frictional Range for Greater Control
Heavy Wall Stainless Tube for Long Life and Smooth Control
Offset Design for Increased Strength and Rope Contact Area
Made to Close Tolerances for Exact Alignment to Frame
Eliminates Top Bar Skew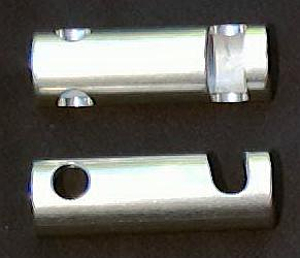 BMS Tubular Bars for SMC Racks
Direct Replacement for SMC Stainless and Aluminum Bars
Heavy Wall Stainless Tube for Long Life and Smooth Control
Offset Design for Increased Strength and Rope Contact Area
Eliminates Rope Staining Caused by Aluminum Bars
Recommended for Use with Hyper-Bars to Eliminate Rope Contact With Edge of Stamped "U" Bars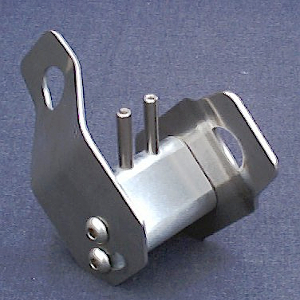 The BMS Belay Spool
will easily catch and control load using one gloved hand at drops of one, three and six feet with rope slippage of approximately eight, twelve and eighteen inches respectively with no observable rope damage.
Testing Data (4-lobe model)
Static Testing:
Breaking Strength: 15,000 lbs.
Rated Working Load: 600 lbs.
Friction Ratio @ Static Load 40:1
Max. Force @ Working Load: 15 lbs.
Informal Drop Testing, 600 lbs. load.
Tests Performed Using 1/2″ PMI E-Z Bend.
For more information on the belay spool, please read this paper.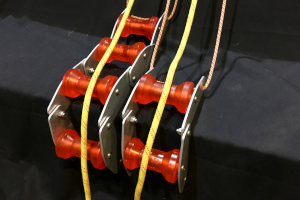 BMS Cata-Rollers
ROPE EDGE ROLLER PLUS
New Super Tough Urethane Rollers
Corrosion Proof Aluminum and Stainless Steel Components
Permanently Lubricated Axels With Teflon Grease
Easily Secured In Place with 8mm Accessory Cord
When inverted (rollers down) can be used to move backboards/litters and other materials more easily in confined spaces (4 Roller Unit Recommended for Stability).
Used by Fire Departments as hose rollers to ease movement of hoses through structure openings reducing drag and easing deployment (4 Roller Unit Recommended).
Specifications:
2 Roller Unit: 13.5" L x 6" W x 3.5" H
Weight: 1 Lb. 14 Oz (0.85 Kg.)
4 Roller Unit: 25.5" L x 6" W x 3.5" H
Weight: 3 Lb. 12 Oz (1.7 Kg.)
300 lb. capacity when used in inverted position (rollers down).